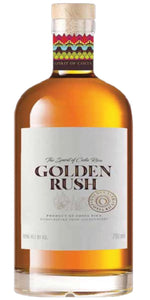 Azul Wine & Spirits
Golden Rush, All-Natural SuperFruit Liqueur, Made from Costa Rican Golden Berries
Regular price
$39.99
Sale price
$45.99
Unit price
per
Golden Rush, Is an all-natural, SuperFruit Liqueur from Costa Rica. It is made from Golden Berries, a superfruit then blended with a dash of sugar, cane-based alcohol, and natural mountain spring water.
From the cloud forest of Costa Rica, situated at 2300 meters above sea level, natural springs nourish bushes of golden berry fruit, to create a unique, handcrafted, barrel-aged liqueur, bursting with original, naturally extracted fruit.  
Enjoy on its own – frozen cold, at room temperature as an aperitif/digestif or mixed-in cocktail. Less sugar than most Liqueurs with no syrupy aftertaste. Ideal for use in cocktails, as Golden Rush is versatile, Add some natural superfruit to your favorite cocktail. 
Cocktail Ideas:
Golden Tonic 1.5 oz. Golden Rush Tonic water Pour Over Ice Garnish with a lime wheel
Golden Rush Spritz 1.5 oz. Golden Rush 2 Mint leaves crushed Lime juice to your taste top off with club soda. Pour over ice and garnish with lime.
Golden Fashion 1 part Golden Rush 2 parts Scotch 2 dashes ANGOSTURA Bitters Serve with a large Ice cube Garnish with an Orange peel.
Golden Margarita 1 oz Golden Rush 1.5 oz Tequila Fresh Lime Juice to taste Serve over ice Garnish salt and a lime
---
Share this Product
---